PROFESSIONAL COMMITTEES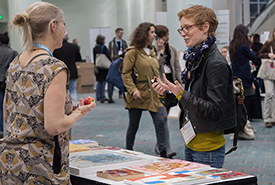 CAA's Professional Committees represent the constituent interests of the organization's membership and address issues, practices, and standards in the professions represented by individual and institutional members. Committees supervise ongoing projects and may recommend to the board the initiation of programs and the adoption of formal statements and guidelines that further CAA's goals.
These committees are composed of CAA members; ideally, one board member should serve on each. Committee size should reflect the goals and needs of each committee, though they generally have eight members.
SESSIONS AT THE ANNUAL CONFERENCE
Every year, CAA's nine Professional Committees present conference sessions on topics related to their activities. Click on a committee name below to read about its session—and also to learn more about each group's work.
COMMITTEE LIST
Committee on Design
Committee on Diversity Practices
Committee on Intellectual Property
Committee on Women in the Arts
Education Committee
International Committee
Museum Committee
Professional Practices Committee
Services to Artists Committee
Student and Emerging Professionals Committee
COMMITTEE SERVICE
CAA invites its members to apply for service on one of the nine committees above, which address crucial issues in the visual arts and propose solutions that advance CAA's goals and the profession as a whole.
CONTACT
Please direct all queries regarding Professional Committees—including how to join one—to Vanessa Jalet, CAA executive liaison.